App to help the sleep of children with epilepsy
Epilepsy affects at least one child in every school. While controlling seizures is an important goal, epilepsy can also affect sleep, learning and behaviour.
Families may have different priorities for management, and this should be embedded in our approaches.
We collaborated with national experts in sleep medicine, psychology and qualitative research (Oxford Brookes, Exeter, Edgehill, Guys & St Thomas') in a National Institute for Health Research (NIHR) -funded programme called CASTLE ('Changing Agendas on Sleep Treatment and Learning in Epilepsy') to develop relevant outcome measures in childhood epilepsy, and to create a novel sleep behaviour intervention.
Patient and public involvement
We first brought together the views of patients, carers, and healthcare professionals to agree the first ever set of core outcomes for childhood epilepsy, using the gold standard COMET guidelines recommended for NHS evaluative research.
This showed patients and carers viewed sleep problems as one of the most important core outcomes, with more specific concerns about total time asleep, awakenings from sleep and daytime sleepiness.
Even in the absence of seizures during the night, sleep problems are 12 times more common in school age children with epilepsy (CWE) than in children without epilepsy.
Beccy Pile is mother to four boys including Luke who has severe epilepsy. She decided to become a Patient and Public Involvement (PPI) Representative on the CASTLE programme for childhood epilepsy to share her family's experience and help researchers devise new and better treatments that will help other families in a similar situation to her own.
Online Sleep intervention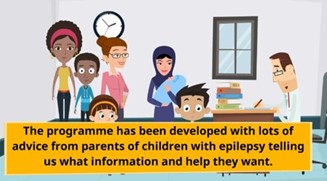 From this research we developed a novel intervention, the CASTLE Online Sleep Intervention (COSI). This is designed on a foundation of evidence-based sleep behavioural interventions with extensive input from our advisory panel of parents and young people with epilepsy.  
COSI is a web app with high user acceptability (100 per cent Friends and Family recommendation) and is about to be evaluated in a national randomised controlled trial across 38 NHS sites, led by researchers from King's College London and the Evelina London Children's Hospital.
Inclusive and personalised app
The app has the advantage of inclusiveness and personalisation. It is suitable for young people with autism, ADHD or learning disability and the interface filters the content according to the user-identified problems. COSI represents an inexpensive, 21st century solution to a common health issue of great concern to patients that is currently not addressed nor resourced in the NHS. When the efficacy and health economics data are available, we plan to commercialise the app to reach a global audience and already have interest from investors.
IMPACT AREAS:
Whole Person Care | Involving Patients in Research | Novel Diagnostics and Therapeutics | National and International Collaboration | Personalising Treatment to Patients