My service user research journey: Jemma's story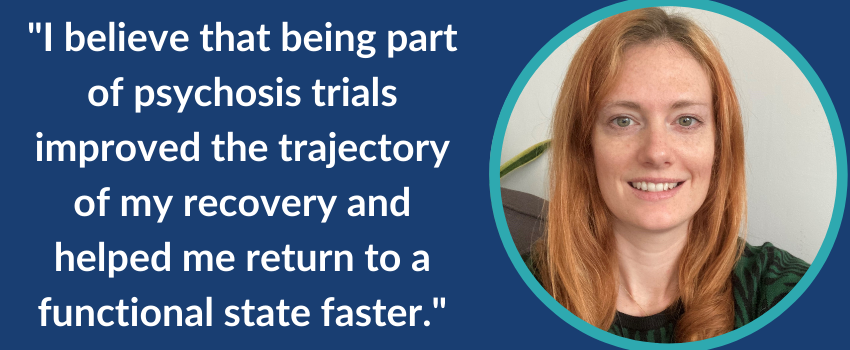 Jemma is a Service User Research Ambassador at South London and Maudsley NHS Foundation Trust, which involves promoting the importance of research to the Trust's service users. She took up the role after taking part in two research studies into psychosis at the Trust. Here she talks about what it was like to be part of research.
Experiencing psychosis
A few years ago I had a first episode of psychosis as a result of dealing with a lot of stress. During this episode I lost touch with reality, believing that I was in a game where I needed to solve clues - and needed to take six months off work. In hindsight the symptoms built up over a year but it still came as a surprise to me and my family, and we all took a while to come to terms with it.
During my recovery, I was lucky to have a brilliant care team at South London and Maudsley NHS Foundation Trust. They knew what research was happening in the Trust relevant to my condition and thought carefully about how to make sure that my participation in these studies complemented the care I received through the trust's Early Intervention Services.
Taking part in trials
Initially, I participated in a Cognitive Remediation Therapy trial, designed to improve attention, working memory, planning, executive functioning and cognitive flexibility. This helped me to begin organising my thoughts and actions, which had become very scattered during my episode of psychosis. I was in the group arm of the trial which meant that I met with a group of other service users and a therapist twice a week for about three months to practice increasingly complex computerised tasks and discuss our progress. The idea behind rebuilding these cognitive skills up from a very basic level is to strengthen pathways in the brain related to attention and planning with the hope that it will make my brain more resilient to any future episodes.
After finishing this trial, I was offered the opportunity to take part in a Virtual Reality Cognitive Behavioural Therapy study to help with social anxiety after psychosis. The virtual reality element replicated going to a pub and approaching different groups of people. Experiencing this alongside my therapist made it clear which part of socialising gave me anxiety, so that we could focus our work on those aspects I found most challenging. I still use the techniques for relaxation such as tense and release as well as watching dolphins with my cardboard VR headset!
The therapists that I worked with in both trials were outstanding and I believe that being part of these trials improved the trajectory of my recovery and helped me return to a functional state much faster than I would have done otherwise.
Becoming a Service User Research Ambassador
After having such a positive experience with these trials, when I saw the Service User Research Ambassador job being advertised, I knew that I really wanted to apply because I am passionate about the benefits of participating in research. Since joining the Trust, my colleague Lily and I have been working hard to make research more accessible to service users. One of the ways that we are trying to do this is through the monthly Research Club set up in collaboration with the South London and Maudsley's Recovery College, based on service user feedback. At the Research Club we invite researchers and their colleagues with lived experience of mental health conditions to present co-produced research to service users in way that makes the processes and outputs of research more transparent and approachable.
Another project that we are running with the Recovery College and Institute of Psychiatry, Psychology & Neuroscience is a 12-week research skills course, where we co-produce research with service users, from choosing a research question, to seeking ethics approval and ultimately disseminating the research. We are piloting this activity with the forensic community but we hope that it will be used by other services and clinicians in the Trust.
From 16 to 27 May we are supporting the National Institute for Health and Care Research (NIHR) TrialBlazers campaign, celebrating people who take part in research. See the NIHR's campaign page and follow our Twitter account to find out more. 
Tags:
Patient and Carer Involvement and Engagement -
By
NIHR Maudsley BRC
at 16 May 2022, 11:08 AM
Back to Blog List