An interview with Dr Charlotte Tye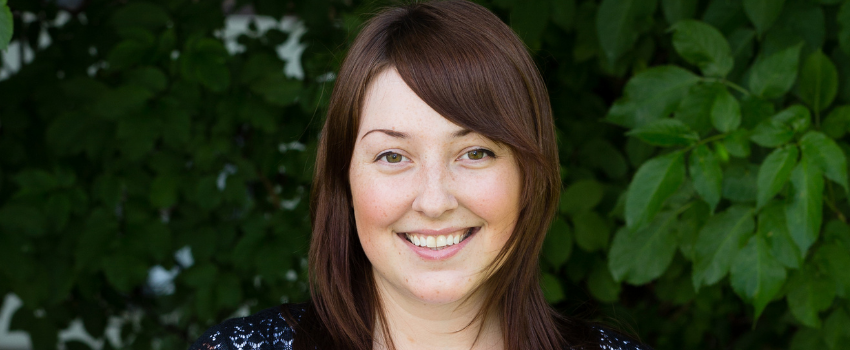 Dr Charlotte Tye is an Epilepsy Research UK/Autistica Fellow and has just finished as an NIHR Maudsley Biomedical Research Centre Lecturer to take up her new role as Senior Lecturer in Psychology at the IoPPN. Charlotte completed a MSc and PhD at the Social, Genetic and Developmental Psychiatry Centre, King's College London. She has recently set up an Adolescent Advisory Group to promote the voices of young people in mental health research.
Please can you give us an overview of your roles?
I have a varied role and no day is the same! I contribute to teaching and supervision of students across BSc and MSc programmes at the IoPPN, I sit on diversity and inclusion committees, and I help to facilitate patient and public involvement work, including the newly (re-) launched BRC Adolescent Advisory Group. I manage a fantastic team of research assistants, a PhD student and a postdoc who carry out our research studies. Our research is focused on identifying differences in brain and cognitive development that predict later behaviour in very young children with epilepsy and rare genetic conditions. Despite the range of physical problems associated with these conditions, behavioural differences and mental health problems are major determinants of quality of life. Ultimately our work aims to identify ways to support children and their families to improve longer-term outcomes.
Can you give a brief overview of your career? What are you most proud of?
I completed a MSc and PhD at the Social, Genetic and Developmental Psychiatry Centre, focused on identifying differences and similarities in brain function between autism and ADHD using EEG, a measure of naturally occurring electrical brain activity. Other than training placements at UCLA and the University of Melbourne, I have been at the IoPPN ever since! My first postdoc position in the Department of Child & Adolescent Psychiatry sparked my interest in a rare genetic condition called tuberous sclerosis complex (TSC) and I was next awarded a Junior Fellowship from the Tuberous Sclerosis Association. I was then appointed as a NIHR Maudsley BRC Lecturer and later also an Epilepsy Research UK and Autistica Fellow. I'm proud of the growth of our research programme and in watching my those in my research team develop their own ideas and skills.
How did you get interested in research?
My Dad is a scientist and did a PhD so I was familiar with and fascinated by the scientific process from a young age – he certainly inspired me to pursue a research career! I have always been interested in child development and wanted to find out more about how differences in brain function and development are related to differences in behaviour, thoughts and feelings. My first taste of my own research was as part of my final year research project in my undergraduate degree. I collected data with fellow undergrads on detection of eye contact and looked at associations with social communication abilities. I remember the thrill of designing my own research study, collecting and analysing the data and discovering new scientific findings. It's then that I knew research was for me! I still get that buzz when I brainstorm new ideas with my team and see findings emerging from months (usually years with the longitudinal research we do!) of hard work, but now I have the added motivation of working with families involved in our research to make the most positive difference.
Any favourite parts of your role as an NIHR Maudsley BRC Lecturer?
My favourite part was working with and engaging young people, families and the wider community in our research. By talking directly with people who have lived experience of certain conditions and difficulties, it's possible to gain a strong understanding of their impact and better recognise the needs and priorities of the community. The BRC Adolescent Advisory Group brings together young people with experience of mental health difficulties to advise on the design and dissemination of research across the IoPPN. In our own work, we aim to integrate family involvement from the outset of research studies and were recently awarded a King's Public Engagement Small Grant to co-produce parent priorities for research into early-onset epilepsy and behaviour. I also work closely with health professionals across different clinical services. I believe integrating these different perspectives is key to advancing science that addresses the most critical issues and to best informing support strategies for improved outlooks.
How has the COVID-19 pandemic impacted your work and life? Are there any COVID-19 specific projects have you worked on?
I returned to work (at home) after maternity leave in April 2020 so, like many others, I juggled childcare and work, including several baby-bound video calls! One of the first things I did was speak to families involved in our research about the need to pause in-person visits, and it became clear that the lockdown was having a substantial impact. Alongside a UK-wide network of collaborators, I launched the CoIN Study, an online study aiming to track mental health and wellbeing over the course of the pandemic and to understand the specific challenges faced by families of children with rare genetic and neurodevelopmental conditions. As we slowly filter back to campus, I'm enjoying the face-to-face interactions with friends and colleagues that I've missed, combined with the online tools - that we have all become experts at using - which present new opportunities to enhance research and teaching.
What are you working on at the moment?
We are at an exciting and extremely busy point in our research team, with findings emerging from our Covid-19 related work and two studies just getting started; one involves visiting preschool-aged children with TSC who we saw throughout their infant years (www.edits-study.org), and another is a new longitudinal study of infants with epilepsy (www.beestudy.co.uk), both aiming to identify early precursors of later behavioural outcomes with a focus on autism and ADHD. Our community involvement work has indicated a preference for home-based studies, so we are testing and implementing all of our measures, including infant EEG, in the family home.
What are your future plans?
This November I've started my first faculty position in the Department of Psychology at the IoPPN. My BRC Lectureship was critical in supporting me to this next stage of my career, providing me with opportunities to develop as an academic and a springboard to launch independent research. I'm looking forward to continuing my involvement with the BRC in my new position as well as the research and community involvement activities I started during my Lectureship.
All about you
Favourite book / TV series / box set over the past year
I have watched an embarrassingly long list of boxsets over the past year! A bit late to the party but we went through the entire collection of Line of Duty (and I did enjoy Bridgerton, should I admit that?!).
Who is your science hero?
Professor Sir Michael Rutter
How would you spend your perfect Saturday?
Banana pancakes followed by a country walk/trip to the beach, pub lunch, a lazy afternoon nap (a very rare occurrence these days!) and meeting my friends in the evening.
Best discovery of lockdown(s)
A slow cooker! And the local Surrey countryside, perfect for picnics.
Tags:
BRC Interview Series -
By
NIHR Maudsley BRC
at 8 Nov 2021, 09:40 AM
Back to Blog List