Mental health, welfare and state support: the potential of combining different datasets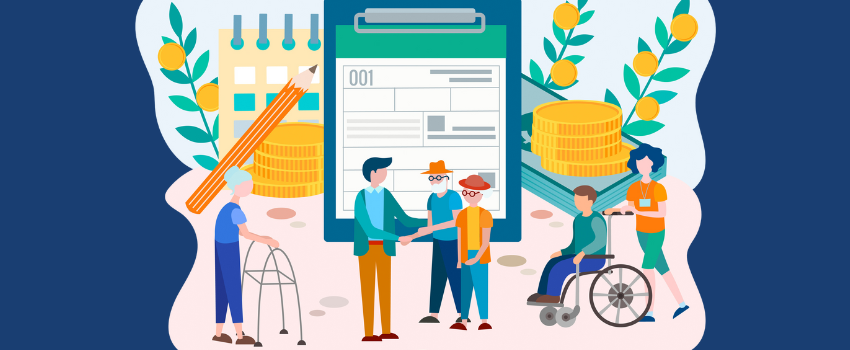 In this blog Dr Sharon Stevelink, Senior Lecturer in Epidemiology at the Institute of Psychiatry, Psychology & Neuroscience, and NIHR Advanced Fellow, looks at the potential for linking data sets to understand the impact of the benefits system on mental health and work.
Many of us will know someone who may have been affected by a mental health difficulty and as a result has been unable to work, whether that's temporarily or permanently. This has a huge impact on the millions of lives of those affected as well as their families, friends and colleagues, and the wider society, as it costs billions of pounds each year. 
To try to address this, the government has focused on improving mental health but is also trying to support people getting into work, despite their health condition or disability. This has resulted in major changes to the UK benefits system, and some of these have sparked a lot of debate, for example the introduction of Universal Credit.
Answering important questions
Many personal accounts are available on how these changes have affected people's wellbeing and especially people with mental health difficulties. However, to date, limited detailed numerical (quantitative) data has been available to researchers as often the different data sets needed to address these important questions are not linked up. Our team has embarked on a research journey that will provide the quantitative evidence needed to inform pressing questions about the impact and usefulness of the benefit system on mental health and work.
Questions we hope to answer include:
Who are most likely to receive benefits among people with mental health difficulties?

What are the characteristics of people (e.g., age, gender, ethnicity, deprivation, and psychiatric diagnosis) who receive Universal Credit and of those by the type of work-related activities people are expected to undertake to continue to receive Universal Credit?

Who is most likely to return to work and what is the impact of work capability assessments on this process?

Finally, and most importantly, we want to explore what works in supporting people back to work for those who can, and what we can do to improve their mental health?
To help us answer these and other questions, we have for the first-time linked UK data from benefits records from the Department for Work and Pensions (DWP) with data from mental healthcare records from the South London and Maudsley NHS Foundation Trust. Data linkage allows us to bring together different sets of information to create a new, richer data source. This new data source will support us to analyse relationships and patterns across the two datasets and provide insight in the connection between mental health, employment, and benefits. In the past, data linkages have proved valuable to understand a range of complex areas and was essential in combating the COVID-19 pandemic, for example, by linking COVID-19 vaccination status data with hospital admissions data.
Data linkage process
Linking these datasets has taken time and resources, and is the result of years of discussions with people with lived experience, the DWP and the Joint Work and Health Unit (a cross-government unit involving the DWP and the Department of Health and Social Care) amongst others, to overcome some of the challenges and sensitivities that come with such a large-scale data linkage project. Furthermore, without the infrastructure and support provided by the NIHR Maudsley BRC, as well as funding provided by the NIHR, this data linkage would not have been established. We are very grateful to all of those who were involved to make this valuable project happen.
We just published our first paper that describes how we established the data linkage and some of our initial findings. Using the Clinical Record Interactive Search (CRIS) system we successfully linked over 400,000 mental healthcare records from patients accessing South London and Maudsley NHS Foundation Trust with benefits records from the DWP. This resulted in a data linkage rate of 93%, meaning that for more than 9 out of 10 patients we were able to link their mental healthcare records with their benefits records from the DWP.
It is important to note that these linked data that are accessible to us as researchers are pseudo-anonymised, or, in other words, it would not be possible to identify patients directly. The South London and Maudsley NHS Foundation Trust is one of Europe's largest providers of secondary (specialist) mental healthcare services, mainly providing care to four South London boroughs, covering a catchment area of over 1.2 million residents. South London and Maudsley provides (national) specialist services to people who have more serious mental health problems as well as Improving Access to Psychological Therapies services (IAPT) that aim to support people with common mental health problems such as anxiety and depression.
Initial insights
Despite the high linkage rate, we did find that some groups were less likely to be successfully linked, such as women, people from a racial and ethnic minority background and younger people. This means that we were less likely to match their mental healthcare records with their benefits records, for example, because women may have changed their last name when they got married. We are currently exploring how we can take that into consideration during our future investigations of the linked data.
We also found that four in five people who accessed South London and Maudsley specialist services had received some sort of benefits over a period of 15 years. Benefits most often received included those related to unemployment benefits (e.g., employment and support allowance, jobseeker's allowance), income replacing disability benefits (e.g., disability living allowance, incapacity benefits) and income support.
Our initial results are just the start of many more insights to come over the course of our research journey. We continue to work with everyone to ensure we maximise the potential of this data linkage to inform public health and welfare policies, as well as mental healthcare service delivery at a local, regional and national level.
If you are interested in collaborating in this project, or would like to receive future updates, please get in touch via sharon.stevelink@kcl.ac.uk.
Tags:
CRIS -
By
NIHR Maudsley BRC
at 16 Feb 2023, 13:44 PM
Back to Blog List