A showcase of research in eating and weight disorders celebrates the launch of CREW

A packed one-day showcase of inspirational talks and activities marked the opening of the new Centre for Research in Eating and Weight Disorders (CREW) at King's IoPPN on 7 November 2023.
The event brought together researchers, clinicians, experts by experience, carers and community groups from across the UK to present research in eating and weight disorders and discuss how to successfully translate it into impactful healthcare.
More than 170 people attended in person at the ORTUS Learning and Events Centre in Denmark Hill, London with a further 110 watching a live stream of the presentations. The event was opened by IoPPN Executive Dean Professor Matthew Hotopf.
"The new Centre for Research in Eating and Weight Disorders and the range of research presented here today demonstrate how meaningful and considered collaboration can ensure research is inclusive, informative and impactful. By working across disciplines and healthcare settings, and by developing strong lived experience partnerships we hope our research is helping to meet the diversity of needs of those with eating and weight disorders."  
The research showcase was supported by the National Institute for Health and Care Research (NIHR) Maudsley Biomedical Research Centre (BRC) and featured research and speakers from its Eating Disorders and Obesity Theme.
A new Centre for the next stage of eating disorders research
After summarising the history of research into eating disorders, the Director of the Centre for Research in Eating and Weight Disorders (CREW), and Lead of the NIHR Maudsley BRC's Eating Disorders and Obesity Theme, Professor Ulrike Schmidt, spoke about the need for the Centre to consolidate and build on the research by King's College London and South London and Maudsley NHS Foundation Trust.
"The eating disorders research group at King's has been a world leader for some time," she said. "And through the formation of CREW, we hope to substantially accelerate the depth, quality and speed of knowledge generation in this area.
Our aim is to address questions that matter to all those affected by eating and weight disorders and ultimately to improve lives through an agile research centre that can respond to new societal challenges and new opportunities. At the heart of this work is ensuring we train and mentor the next generation of research leaders and clinicians to take forward and develop these innovative approaches."
From recognising risk to improving patient access
The morning's talks covered updates from ongoing research to recognise and reduce risk, including ongoing analysis of multiple cohorts that are collecting genetic, epigenetic, neuroimaging, behavioural, clinical and other data to identify risk factors and provide insight into how each element might combine and influence the development of eating disorders. Research on how diet affects the growth of new brain cells in the hippocampus was presented and collaborations on the collection and analysis of different data were discussed.
Improving access to treatment was the second theme of the morning. This included the extension of the First Episode Rapid Early Intervention for Eating Disorders (FREED) approach to a mobile phone format (FREED-M) to improve help seeking. Continuing on the theme of accessibility, researchers from the Recovery workstream of the EDIFY presented on the use of remote measurement technology to help track the recovery trajectories of different eating disorders over time in young people.
A talk on transdiagnostic approaches covered explored how the different experiences of eating disorders can help understand predictors and mediators of outcomes.   This was followed by a presentation on the continuing evaluation of resources and training for carers that have been designed, evaluated and implemented with lived experience experts at every stage.
The session finished with a thought-provoking talk about using virtual reality to provide 3-D body mapping which has the potential to enable more inclusive ways to explore disordered eating in marginalised communities.
Enhancing research and understanding through visual art, music and public engagement
Woven Ink studio created Visual Minutes (pictured below) bringing together written content, illustrations of speakers, and graphics to capture the key messages, themes, and energy of the day.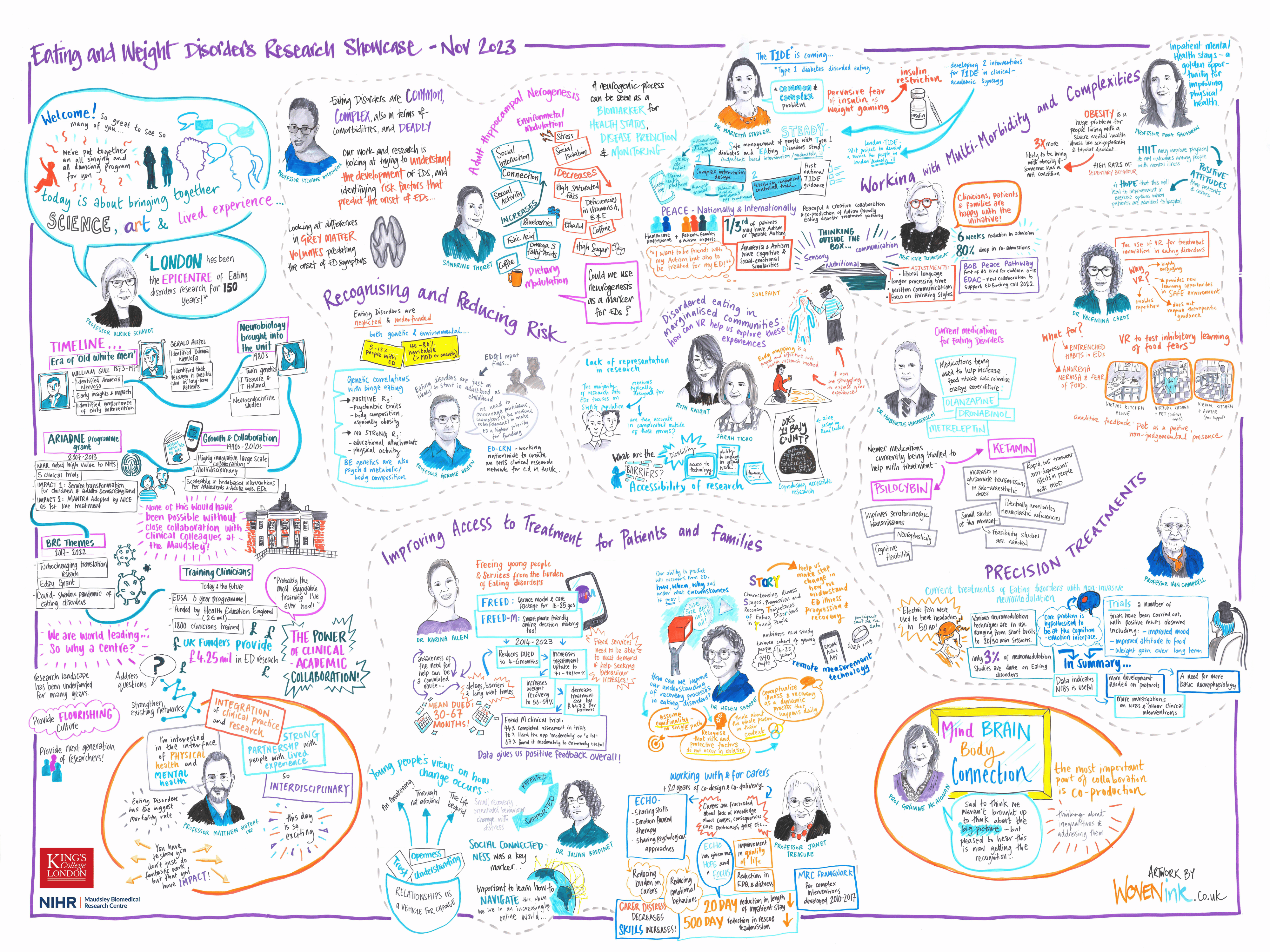 Explore the Visual Minutes in a larger size here
During the lunchbreak attendees could try out virtual reality body mapping – an approach presented in the morning's talks, engage in a pop-up art workshop by the Glasgow School of Art, partners in the Lived Experience workstream of the EDIFY project and listen to live jazz piano played Dr Hubertus Himmerich from the CREW. Additional activities included listening to the BBC Radio 3 Scoring Mental Health programme that explored the sounds of mental illness.
Several science stalls provided opportunities for attendees to learn more about a range of projects including:

Attendees try out virtual reality body mapping during the lunchtime session; Dr Hubertus Himmerich plays jazz and blues piano. Photos: Nathan Clarke Photography
Working with co-occurring conditions and precision treatments
The afternoon session showcased research into the complexity of eating disorders and their relationship with physical and mental health conditions and neurodiversity. This included presentations on services for people with type 1 diabetes and disordered eating (T1DE), how to tackle obesity in the context of severe mental illness and the continuing work of the PEACE Pathway which has brought patients, families and experts in autism together to create an autism friendly eating disorder treatment pathway.
The final session focused on new approaches that could enable more precise treatments to different groups of patients with eating disorders. This included the use of virtual reality to change difficult habits, fears and learnt behaviours and new drug therapies such as the psychedelics (psilocybin and ketamine) . The final presentation focused on non-invasive neuromodulation which alters nerve activity by delivering electrical stimulation directly to a target area in the brain and includes transcranial magnetic stimulation and transcranial direct current stimulation.
The day was closed by NIHR Maudsley BRC interim Director, Professor Grainne McAlonan who reflected on how the presentations and discussions align with the core work of the BRC in terms of mind-body connections, collaboration and working in partnership with lived experience.
Watch all the talks on our YouTube here. 

Researchers discuss their studies with attendees; Professor Ulrike Schmidt opens the event. Photos: Nathan Clarke Photography 
Tags:
Eating Disorders & Obesity - Patient and Carer Involvement and Engagement -
By
NIHR Maudsley BRC
at 13 Nov 2023, 10:00 AM
Back to Blog List