Unplanned hospital admissions for people with dementia higher in the last year of life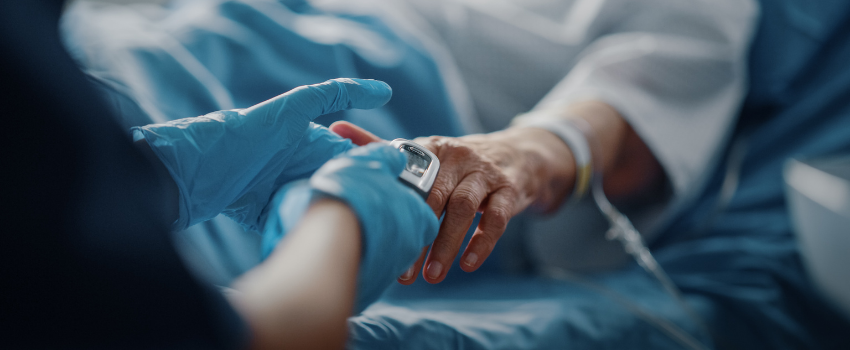 New research from King's College London found that people living with dementia experience higher levels of unplanned hospitals admissions towards the end of life after receiving their dementia diagnosis. The study found that 40% of all unplanned hospital admissions after a diagnosis of dementia took place in the last year of life.
The research published today in Age & Ageing, was part of the Empowering Better End of Life Dementia Care (EMBED-care) programme which is funded by the National Institute for Health and Care Research (NIHR) and Economic and Social Research Council (ESRC) and supported by Marie Curie. It was carried out in four South London Boroughs and analysed data on 19,221 people aged 50 and over, diagnosed with dementia, across a 22-year period (1995-2017).
The researchers used our Clinical Record Interactive Search (CRIS) system to link anonymised data on patients from South London and Maudsley NHS Foundation Trust who had received a dementia diagnosis to hospital admission data and mortality data.
Professor Robert Stewart, Theme Lead for Clinical and Population Informatics at the NIHR Maudsley Biomedical Research Centre and Professor of Psychiatric Epidemiology & Clinical Informatics at King's College London, said:
"This research demonstrates the importance of drawing information from multiple sources for health research – in this case, investigating the experiences of people diagnosed with dementia in one sector (memory assessment and mental health services) in relation to outcomes in another sector (general hospital care). People with dementia often need support from many services but most research and policy relies on very limited information – either from the selected people who take part in follow-up studies, or information sources from individual parts of the healthcare system. We really need to move on from these limited viewpoints – it's a disservice to people with these conditions if we don't present the broader picture."
Data on dementia diagnosis used in this study was from the CRIS system which is a computer system that allows researchers to carry out research using information from South London and Maudsley NHS Foundation Trust clinical records. CRIS is safe and secure, and patients' personal details cannot be accessed by researchers who use it.
Need for improved end-of-life care
The findings demonstrate the need for improved community care and services for people with dementia who are approaching the end of life, and high-quality dementia end-of-life care in hospitals.
There were over 54,000 unplanned hospital admissions recorded, which steeply increased for people towards the end of life with over one in three admissions (37.3%) occurring in the last year of life, and many experiencing more than one admission. Although most people with dementia and their families prefer not spend time in the hospital towards the end of life, in this study people with dementia spent between 12-59 days in the hospital in the last year of life.  
In the sample, 38.1% died in the hospital, which is similar to national data, and of these around one in 10 (9.1%) died on their first unplanned hospital admission after diagnosis.
Care and services to reduce unplanned hospital admissions
Emel Yorganci from the Faculty of Nursing, Midwifery & Palliative Care at King's College London, and lead author on the paper, said:
"This research shows that during the end-of-life period, people with dementia experience a much higher number of unplanned hospital admissions. These admissions, while sometimes necessary, can be detrimental to the person living with dementia, and may be a consequence of poor community support. Understanding when unplanned hospital admissions are most likely to occur can help to inform where resources need to be invested to provide high-quality dementia care. Without adequate high-quality community focused dementia care services to manage the needs of people with dementia at the end of life, admission rates are likely to remain high."
Debbie Ripley, Associate Director Strategic Partnerships and Services London at Marie Curie said:
"For people living with dementia, being taken out of their home and rushed into hospital can be extremely distressing and upsetting. It can make the person feel vulnerable and scared, leaving themselves and their loved ones traumatised. We know that proper community palliative care, with the correct services in place, can reduced emergency admissions for people with dementia, and therefore can be the difference between a good end of life experience and a bad one. There continues to be a need for these to be improved, especially for those living with dementia."
The paper 'Patterns of unplanned hospital admissions among people with dementia: From diagnosis to the end of life' was published in Age & Ageing.
Tags:
Dementia and related disorders -
By
NIHR Maudsley BRC
at 18 May 2022, 13:04 PM
Back to Blog List